Telephone:
01288 381680
eMail:
appointments@juliasholistictreatments.co.uk
Areas I Cover:
Bridgerule
I practise holistic therapies within a comfortable and relaxed treatment area in my home at Bridgerule. Find me using google maps.



Holsworthy
I have a treatment salon at 4 Manor Court Holsworthy EX22 6DJ (next to the museum).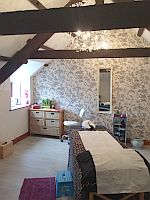 Find me using google maps.


Mobile Service
Home treatments for ultimate pampering and holistic therapies in Bude, Launceston, Holsworthy and all areas in between.
Opening Times:
Bridgerule
Monday, Tuesday, Wednesday and Friday - 9.30am - 2.30pm
Evening and mobile appointments available on request.
Please call 01288 381680 to make an appointment.
Please give 24hrs notice if unable to attend an appointment.